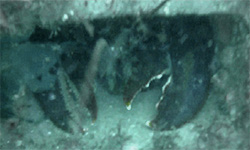 The Habitat Mooring is constructed of cast concrete, with built-in tunnels. These openings provide shelters that are highly attractive to a wide range of marine life, including lobsters, crabs and a variety of fin fish.
Click here to see the full inventory of marine life.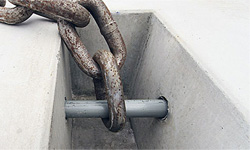 Each Habitat Mooring is poured with high density, fiber reinforced concrete. The hitch rod is 1.25" diameter steel rod that is easily removed for chain attachment. This eliminates the cost of a shackle, as well as a standard horseshoe staple
Click here to see complete list of cost savings.
First Deployment At Seal Harbor, Maine
Working with Mt. Desert Harbormaster Shawn Murphy and Matt Knox of Alvah B. Barge Company, the Habitat Mooring team deployed the first mooring in late July, 2010. The mooring was donated to the town of Mt. Desert to moor the NO WAKE buoy at the entrance to Seal Harbor. Follow-up dives to the mooring by Shawn Murphy in September and October revealed a diversity of marine life aggregating in and around the mooring, including schools of pollack and mackerel, juvenile flounder, crabs, lobsters, shrimp and and lump fish.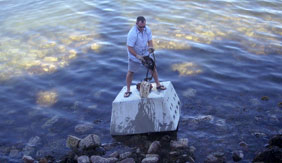 Matt Knox readies Habitat Mooring at low tide, adjacent Seal Harbor Town Dock. At next high tide, he hoisted mooring onto barge Alvah B. for deployment.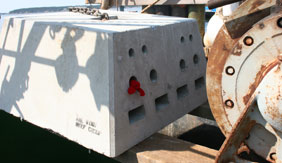 Habitat Mooring System ready for deployment aboard the Alvah B.
Contact Habitat Mooring Systems
Phone: 607-967-2751
Email: info@habitatmooring.com
Address: 40 Town Farm Road, Hampden, Maine 04444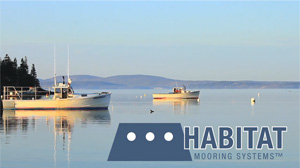 Steve McMullen, of Bay Services in Sorrento, Maine, gives a demonstration of the Habitat Mooring.
Click here to see our environmental benefits.
Click here to see our advantages over traditional moorings.
Click here to see comparison to granite.
May 2013: Writing for the Bangor Daily News,
Bill Trotter profiles Habitat Mooring Systems and details ongoing studies by the University of Maine to assess the effects on marine habitat.
Winter 2011: Peter Bass gives Habitat Moorings the "Wicked Smart" Award in his
Maine Boats & Harbors "View From the Porch" column (see "Make your own reef")
September 2010: Laurie Schreiber writes about Habitat Mooring Systems
for the Fishermen's Voice.
August 2010: The Village Soup reports on Habitat Mooring Systems
(requires membership to view).
July 2010: Habitat Mooring Systems featured in the Bangor Daily News.