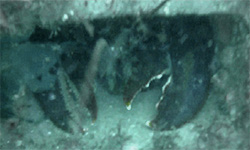 The Habitat Mooring is constructed of cast concrete, with built-in tunnels. These openings provide shelters that are highly attractive to a wide range of marine life, including lobsters, crabs and a variety of fin fish.
Click here to see inventory of marine life.
A mooring that's cost competitive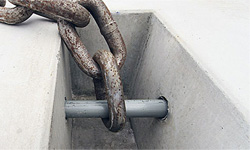 Each Habitat Mooring is poured with high density, fiber reinforced concrete. The hitch rod is 1.25" diameter steel rod that is easily removed for chain attachment. This eliminates the cost of a shackle, as well as a standard horseshoe staple
Field tested and proven
Habitat Moorings have been deployed in harbors all along the Maine coast, from Jonesport to Casco Bay and numerous points in between. Increasingly, mooring setters, fishermen and boat owners are selecting Habitat Moorings for their cost savings, convenience and durable holding power.
In addition to the original Standard Series, which was introduced in 2010, Habitat Moorings are now available in a Low Profile Series in weights from 4,000 lbs.
up to 12,000 lbs.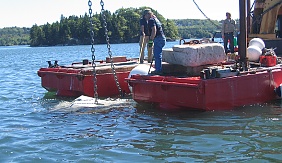 In September, 2014, the Maine Maritime Academy in Castine, Maine deployed a Low Profile HMS 8000 in Castine Harbor. The 8,000 lb. mooring will be used to...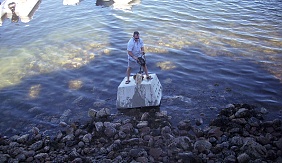 Matt Knox readies Habitat Mooring at low tide, adjacent Seal Harbor Town Dock. At next high tide, he hoisted mooring onto barge Alvah B. for deployment.
View More News
Contact Habitat Mooring Systems
Phone: 607-967-2751
Email: info@habitatmooring.com
Address: 40 Town Farm Road, Hampden, Maine 04444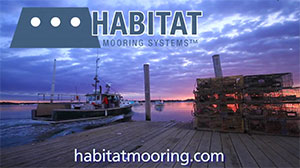 Jamie Steeves, of J & J Lobster Co. in Rockland, Maine, gives a demonstration of the Habitat Mooring.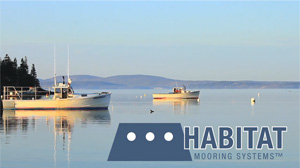 Steve McMullen, of Bay Services in Sorrento, Maine, gives a demonstration of the Habitat Mooring.